Employee Empowerment PowerPoint Template Designs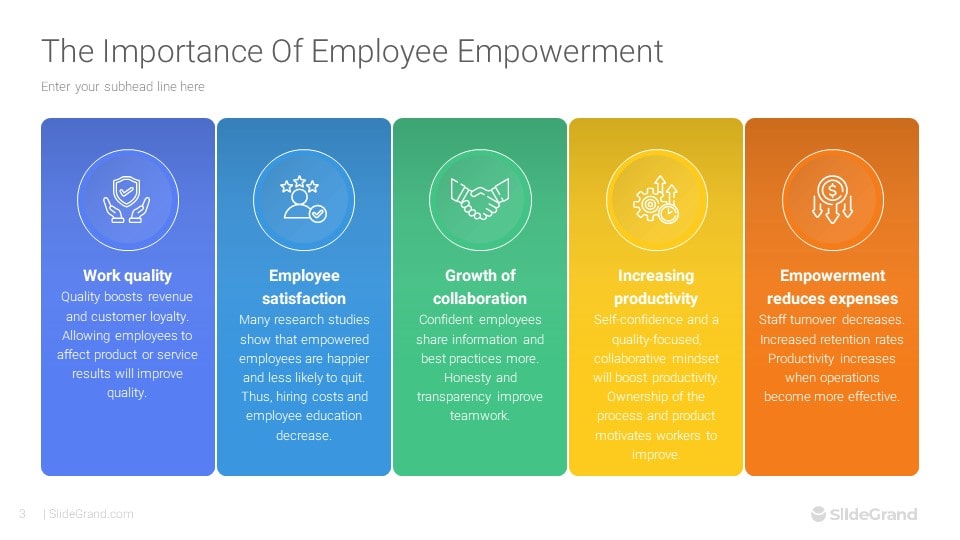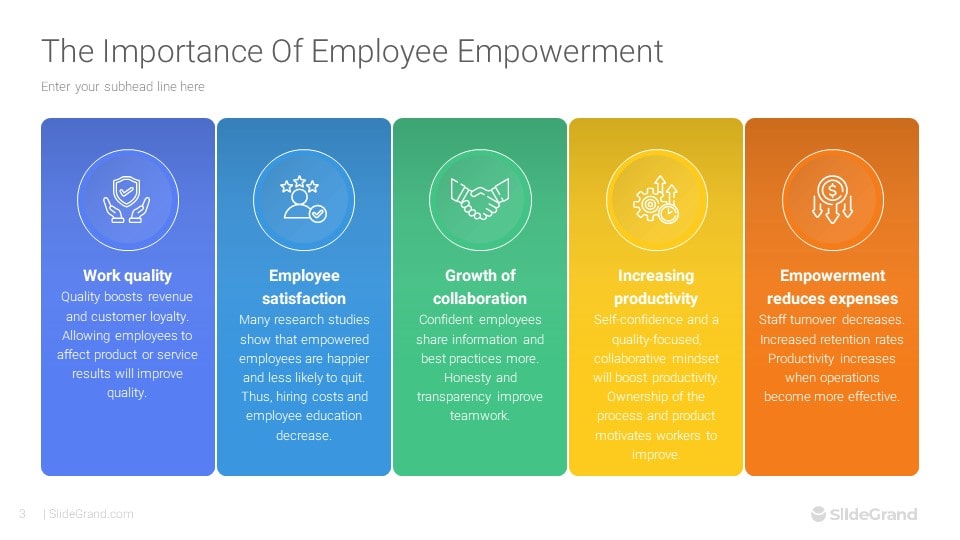 Employee Empowerment PowerPoint Template Designs For Presentations
The Best collection of Employee Empowerment Templates and Slides for PowerPoint and Google Slides presentations.
Unlock the full potential of your workforce with our Employee Empowerment templates. Empowering your employees is the cornerstone of a successful and dynamic organization. These professionally designed templates are your key to delivering impactful presentations on the importance of employee empowerment, strategies to implement it, and the positive outcomes it can yield.
Our Employee Empowerment templates offer a visually compelling and informative way to engage your audience. Whether you're a business leader, HR professional, or trainer, these templates provide you with the tools to convey the significance of giving employees the autonomy, resources, and support they need to excel.
Employee empowerment is not just a buzzword; it's a proven strategy for enhancing productivity, employee satisfaction, and organizational success. These templates empower you to convey this message effectively, inspiring your team to reach new heights.
Equip yourself with our Employee Empowerment templates today and drive positive change within your organization. Start empowering your employees for a brighter, more productive future.
Unlock the potential of your workforce with our Employee Empowerment templates. Download now and make a lasting impact!
This collection of ready-to-use PPT slides and infographics of Employee Empowerment  Templates is fully editable and created 100% with PowerPoint vector objects, you can easily customize its appearance (size, colors, effects, etc.) as per your business requirement.
Key Features?
11 Unique & Creative PPT Slides
Aspect Ratio (16:9)
Fully and Easily editable content
125+ Stunning Premade Theme colors
5500+ Vector Icons! easily change size & color
Unlimited Themes Color
One-click to change all colors to fully fit your brand's color
100% Vector Objects & Icons
Free Fonts and Icons
Compatible With PowerPoint and Google Slides